 Elizabeth Bradt Reed
Sammuel Ellsworth Bradt began a business career in 1879 at the DeKalb firm of Bradt and Shipman. He also contributed a considerable amount of time to the local Board of Education and the local and State Chambers of Commerce. His chief area of interest was Illinois Highway finance and construction. Bertha Glidden Bradt graduated from the Teachers College at Normal, Illinois, and married Samuel Ellsworth Bradt. She held office in the Home Economics department of the Women's Club of DeKalb and Illinois.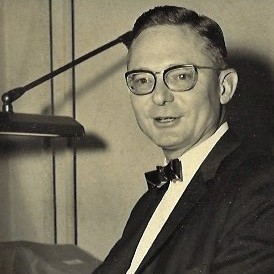 Elizabeth Hagelman, C.W.T. Hagelman, III, and others
This scholarship is in memory of Charles W. Hagelman Jr. who served as Chair of the Department of English from 1968-1974. He was instrumental in establishing the NIU summer program in English literature at Oxford University in England, which got its start in the summer of 1970 and has been in continuous operation ever since. When Charles Hagelman arrived in 1968, the Ph.D. program in English, has produced one graduate. By the end of his tenure as chair it produced 22. It has now produced more than 125. With his support the now international honor society for students of English established its headquarters at NIU in 1969, where it has remained the only honor society based in Illinois.
This scholarship was initiated by Dr. James Mellard who was chair of the Department of English as a way to honor his predecessor, Charles W. Hagelman Jr.. Elizabeth Kahn
Larry R. Johannessen was born in 1947 and raised in Denver, Colorado. When he went to register for classes in high school, his counselor scheduled him into the vocational curriculum based on his address in the working class section of his community. Dissatisfied with the assumptions behind this decision, Johannessen elected to leave high school before graduating and enlisted in the Marines, joining the same unit in which his father had served: B (Bravo) Company, 1st Reconnaissance Battalion, 1st Marine Division. This unit was later featured in the HBO series Generation Kill, which focused on the Battalion's experiences in Iraq. Johannessen served two tours of duty in Vietnam, a country he had never heard of before enlisting. As a Marine, he was awarded the Presidential Unit Citation with one star, the National Defense Service Medal, the Vietnam Campaign Medal, the Vietnam Service Medal with three stars, the Good Conduct Medal, and the Rifle Marksman Badge (1964-68). He left the service with an honorable discharge in 1968 at the rank of Sergeant.Upon leaving the Marines, Johannessen earned his G.E.D. and entered Ohlone College, a 2-year college in Fremont, California, from which he graduated with an A.A. with honors in 1973. He transferred to California State University Hayward (now East Bay), receiving his B.A. in 1975, graduating magna cum laude. From there Johannessen earned his M.A.T. in 1976 in English Education from the University of Chicago, the program run by George Hillocks, Jr. At the University of Chicago, he met Elizabeth (Betsy) Kahn, whom he married. They had been married for 27 years at the time of Johannessen's death. Johannessen began working on his doctoral studies in 1983 at the University of Chicago, again under the mentorship of Hillocks. He completed his degree in 1997.Johannessen taught high school English at Lyons Township High School in LaGrange, Illinois, from 1976 to 1989. While a doctoral student he began teaching at universities, including St. Xavier University in Chicago, Benedictine University in Lisle, Ill., and Barat College in Lake Forest, Ill. In 2001 he became an assistant professor of English at Northern Illinois University. During his career at NIU, he served as Director of Undergraduate Studies and was promoted to the rank of full professor in 2007.Johannessen was a prolific author and presenter. His writing was published in a variety of journals, including The English Journal, The Clearing House, Research in the Teaching of English, The Social Studies, and other journals. He was also the author, co-author, or coeditor of nine books published by Heinemann, NCTE, and Merrill, plus two textbooks on vocabulary study for Kendall/Hunt. His work fell into three general areas: teaching the literature of the Vietnam War, designing instruction using a structured process approach, and the experiences of beginning English teachers. Many of these publications were coauthored with his wife, Elizabeth Kahn, and his close friend Tom McCann. Elizabeth Klaus Hatch and Donald L. Hatch Jr.
Elizabeth Klaus and Don Hatch both earned their undergraduate degrees from NIU in 1973 from the College of Education. Don continued his education by receiving his graduate degree in history from NIU in 1981. In 1987, Elizabeth received a graduate degree in education curriculum. Elizabeth taught both first and third grades for thirty-one years and Don taught social studies for thirty-three years. Elizabeth Patterson
Elizabeth Patterson began her college teaching career at Northern Illinois University in 1965. She sewed the University for 30 years, teaching in the Department of Kinesiology and Physical Education and sewing as coordinator of publicity and recruitment, and coordinator of advisement. Emmett C. Richards
This fund was established by Emmett C. Richards (1952) in honor and memory of his late wife Jane Elizabeth Leach Richards who worked during her lifetime as a nurse. Mr. Richards, himself an educator, passed away on February 7, 1987. Engineering and Engineering Technology Alumni Society
The Engineering and Engineering Technology Alumni Society was established in 1955 to serve alumni of the college of Engineering and Engineering Technology and the former Department of Industry and Technology. ETAS created a newsletter as a way of quickly informing ETAS members about the events and news concerning the College of Engineering and Engineering Technology, its faculty, staff and students, and about ETAS and the College's alumni. ETAS serves as an advisory group to the Dean. Eric and Mary Kay Mace
The Ryanne Mace Memorial Scholarship was established by Eric and Mary Kay Mace in honor and memory of their only child, Ryanne, who tragically lost her life on February 14, 2008. Ryanne Mace, a 19 year old sophomore from Carpentersville, was an honors student studying psychology with the intention of attaining a doctorate-level degree and working in the field of counseling. As a student, she studied French, had played violin in the symphony orchestra at Dundee-Crown High School and was an avid reader sometimes juggling four or five books at a time. Ryanne was known and well liked by faculty members at NIU who described her as a young woman who was intellectually engaged, highly motivated, outgoing, and friendly. Ryanne was interested in studying mental illness. She was always friendly and laughing- just a really good kid. Ryanne's family and friends will always remember her as a funny, kind, intelligent and compassionate young woman. It was her goal to dedicate her life to helping others be better than they thought they could be. The intent of this scholarship is to help others who embody the spirit and strength in character that Ryanne exemplified as a student and most importantly as a person. Despite being taken before her time, Ryanne's desire to help others will be fulfilled even in her absence. Her family and friends have established this scholarship so that her legacy will live on. Ernst & Young
The Ernst & Young Foundation was formed in 1937 to provide effective and meaningful philanthropic support to institutions of higher education, primarily in the areas of accounting, tax, and general business. Ernst & Young and the Foundation have gifted more than $100 million to educational organizations throughout the United States. In 2014, the Ernst & Young Foundation contributed more than $5 million in matching funds to higher education, matching the eligible contributions of Ernst & Young active and retired personnel. Estate of Phillip E. Morris
This student scholarship was made from Phillip E. Morris in memory of his son John. John Morris was a 1988 graduate of the Master of Public Administration Program at NIU. After earning his degree, John worked as the Assistant Finance Manager in Naperville. He died of cancer at the age of 36. His loving father Phil created this scholarship, through his estate, as a way for John to be remembered at NIU.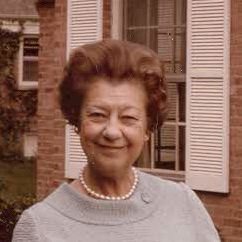 Eunice B. Schwemm
Eunice Butler Schwemm graduated from Northern Illinois College in 1923 and taught in the Oak Park public school system. After her marriage she returned to her native Barrington where she lived for more than 70 years, actively supporting numerous civic causes including the schools, library, early "head start" programs, and open housing initiatives. She very firmly believed that good, caring teachers are essential not only to quality education but to the maintenance of a free and responsible society. Evelyn S. Nelson
Evelyn Nelson attended DeKalb public schools and the University of Illinois. She worked for many years in public relations and served such varied organizations as the Illinois Symphony, the USO, the Blackstone Hotel in Chicago, the Water Tower Inn, and the Chicago Public Library System. She retired in 1982. She passed away at the age of 84 and generously left a bequest to establish this fund. Family and friends of Arthur J. Krupp
Arthur J. Krupp served the DeKalb community as an accountant and tax specialist for more than 40 years. He generously contributed his time and talents in helping to establish the State of Illinois and Federal Tax Institute programs and provided expert speakers from the government and the private sectors so the students and audience would have the unique opportunity to hear both views. His twin sons received their undergraduate degrees in accounting from the College of Business at NIU. Family and friends of David P. Street
David P. Street received his B.S. degree from NIU in 1957 and his Masters and Doctorate from the University of Michigan. He was a honor student while attending Northern. His father Paul Street, was a faculty member at Northern. After serving as a faculty member at the University of Chicago, the State University of New York at Stony Brook, and the University of Michigan, he became Head of the Department of Sociology at the University of Illinois, Chicago Circle in 1976. In his short lifetime, David Street became well recognized for his research and writing in the field of sociology. He passed away in 1981 at the age of 45. This memorial fund was established by his family and friends. Family and friends of Donald R. Ostberg
Donald Ostberg was a faculty member at NIU from 1967-1978 and a head of the department from 1967 to 1972. Donald worked hard for the enhancement of mathematical scholarship in the department. He passed away in 1978. His wife, Rosemarie, contributed greatly to Donald's efforts as he worked to grow and expand the department. Family and friends of Francis Mays
Francis was a lawyer for a long time who, in addition to an active private practice, also served the area as the public defender. He died in October 1990, and was a well known figure in the local courts and legal profession. He was serving as president of the county bar association at the time of his death. His appointment as public defender coincided with the opening of the NIU College of Law. He was a role model and mentor for many NIU Law students. Family and friends of Gary Coover
This scholarship has been established by the family and friends of Dr. Gary Coover. During his distinguished career of 31 years at Northern Illinois University, Dr. Coover was instrumental in the development of the Psychology program by holding various positions within the Department of Psychology. He was a Professor of Psychology from 1972-2003. He was Acting Chair of the Psychology Department from 1983-1984 and the Assistant Chair from 1986-1987 and again, from 1991-2003. He also had the honor of being the first official 'Director of Graduate Studies' from 1982-1986. Dr. Coover also served in other capacities that influenced policy and actions supporting travel funds for graduate students. Family and friends of Gerald Maryanov
Gerald Maryanov was a professor within the Department of Political Science. Both his wife, Mona Adina Theisen, and his son, Michael Maryanov, are graduates of Northern Illinois University. Family and friends of Kathy Orr McDonald
Kathy Orr, a former Northern Star editor, died during the summer of 1997 at the age of 34. She was an award-winning reporter at the Daily Southtown and had previously worked at the Rockford Register Star. She was viewed as a standard bearer in the newsroom for her accuracy, integrity, ethics, and hard work. Family and friends of Leslie A. Holmes
Leslie Holmes was born in Freeport, IL. He earned teaching and travel research fellowships from the University of Illinois and directed geological research in the southwest for the Skelly and Texas Oil companies. During the depression, he became a geography and geology teacher at a community high school in Chicago, IL. Holmes was NIU's 5th president and during his term Northern experienced phenomenal physical growth and developed several new administrative and academic programs. Student enrollment soared as land acquisitions and building construction increased. He retired from the presidency in 1967 and became a visiting professor at Arizona State University. Family and friends of Margaret May Duncan
Margaret Duncan was a former professor and chair of the Department of Physical Education for Women at NIU from 1958 to 1973 when she retired. As department chair, she planned and designed Anderson Hall which was completed in 1964 and served as a modern facility for women's physical education. She co-authored two textbooks and served on numerous state, district and national committees for the American Association of Health, Physical Education and Recreation. Family and friends of Margariete Montague Wheeler
Margariete Montague Wheeler was an Associate Professor of Mathematics at Northern Illinois University where she taught for 15 years. She was deeply committed to the work of the Illinois Council of Teachers of Mathematics, the International Group for Psychology of Mathematics Education and the AERA Special Interest Group for Research in Mathematics Education. She regularly gave lectures at meetings, maintained an active program of scholarly research and presented many workshops. She was devoted to her students and gave generously of her time to provide advisement and encouragement to them. The Margariete Montague Wheeler Fund was established by her family and friends upon her passing on October 22, 1988. Family and friends of Mrs. Iris Adam
Iris Adam graduated from NIU with her Bachelor of Science degree in education in 1969. Mrs. Adam passed away on May 13, 1992 after working for the Rockford School District for 15 years. She was a special education teacher, and a dedicated and devoted teacher of trainable mentally handicapped students. She showed extreme concern for their welfare and well being. Family and friends of Paul Busija
Paul Busija graduated from NIU with a degree in Music Education, May 11, 1974. While Paul was at NIU he was a member of the Huskie marching Band, Pep Band, Jazz Band, Wind ensemble, Concert Band and Orchestra. He attended graduate school during 1974-75. Paul was a member of Omicron Delta Kappa, a professional leadership and scholarship fraternity; Phi Mu Alpha, a professional music fraternity; The National Educators Association, and the National Federation of Musicians. He died in October 14, 1982, from injuries suffered in a car accident. Family and friends of Professor John D. Graham
Professor John D. Graham was a long time faculty member in the Chemistry Department at NIU and made considerable contributions to the undergraduate and graduate programs in that department. Family and friends of Professor Waldo Burchard
This endowed fund has been established by family and friends to honor and to memorialize Professor Waldo W. Burchard and to create a means of support for a graduate scholarship award. Waldo was a long time faculty member in the Sociology Department at Northern Illinois University. He was the first chair when the department of Sociology and Anthropology were organized in 1961 and served in that capacity until 1968. Family and friends of Reynolds Whitney
Reynolds Whitney was a member of the faculty in the Music Department at NIU from 1948 until his death on January 2, 1978. He was a professor of piano and was extremely well-known throughout the region. He appeared with the NIU Philharmonic Rockford Symphony and regularly performed solo and chamber music recitals. This endowment fund was established by his family and many friends in order to perpetuate scholarship in the Department of Music. Family and friends of Richard H. Howland
Richard H. Howland is a former professor and chair of the Department of Marketing of NIU. Howland joined Northern in 1964 and was with the university until he could no longer teach. He received many honors as a teacher, including the NIU Excellence in Teaching Award and the NIU Foundation Service Award. His true love, outside his teaching, was his interest in writing poetry, and thus, he wished to have this endowment established in order to benefit students who shows excellence in the writing of poetry. Family and friends of Robert H. Bauernfeind
Robert H. Bauernfeind was a veteran NIU professor and a national expert on standardized tests and testing. He died suddenly on February 22, 1992 at the age of 66 while still an active member of the educational psychology faculty. Robert's career was devoted to improving the interpretation and use of scholastic and vocational tests. His work was always guided by a sense of fairness and honesty. A frequent contributor to scholarly journals and the Mental Measurement Yearbook, Robert's third book was published only three weeks before his death. Robert joined the NIU faculty in 1963, and at the time of his death, was teaching in the Department of Educational Psychology, Counseling, and Special Education. His work in educational testing began in the 1950s when he was director of test publications for Science Research Associates in Chicago. He taught at Carleton College from 1948 to 1952 and served as director of educational research at the National College of Education in Evanston in the early 1960s. For many years he was also a research and development consultant for Scholastic Testing Services INC in Bensenville, IL. He served as a member of many different organizations including the American Educational Research Association, AMECD and AIM. Family and friends of Sydney Smith
Sydney Smith was an NIU faculty member in the Theatre Arts Department from 1969 until 1976. Mr. Smith retired in 1976 and passed away in 1978. Mr. Smith had a long and illustrious career in the theatre prior to coming to Northern Illinois University.