 George Spencer
Marvin Rosen was a longtime professor in the History Department at Northern Illinois University. With a Ph.D. in history from the University of California-Berkley, in 963 he began his 38-year career with NIU. He retired in May 2001. Georgiana W. Sie
This scholarship was established in memory of Dr. Georgiana W. Sie, a faculty member at Northern Illinois University in the Department of Home Economics. Dr. Sie came from a very diverse educational background which consisted of schools in many countries. Dr. Sie's responsibilities at Northern included teaching courses in human development, infancy, and graduate courses in child development. Her University assignments included program development, student advisement, and various phases of university service. Georgiana passed away on August 27, 1982. Gifts were received from people in the community, across the nation, and around the world for the use in establishing this fund.
On February 14, 2008 an unfathomable tragedy befell Northern Illinois University. Numerous students were wounded and five wonderful students lost their lives when a gunman entered a large lecture room in Cole Hall. Throughout the country and around the world, the NIU community witnessed and overwhelming outpouring of concern and compassion. The Forward Together Forward Memorial Scholarship Endowment was created through the generosity of numerous donors to honor the five students who lost their lives that tragic day: Gayle Dubowski, Catalina Garcia, Julianna Gehant, Ryanne Mace, and Dan Parmenter. Gladys M. Bahr
Mrs. Bahr earned degrees from the University of Wisconsin and Northwestern University and taught at all levels of school, including colleges and universities. She was a professor at NIU and also wrote a basic business textbook that she used in her own class. She achieved success and recognition in business and consumer education and was fondly known as "Miss Consumer, USA." She received many awards throughout her life, including the State of Illinois Award for Meritorious Service. Gladys M. Bahr died on November 2, 1977. Gordon and Virginia Kolze-Rasmussen
Gordon and Virginia Rasmussen established the Kolze-Rasmussen Music Scholarship to honor the Kolze and Rasmussen families, and to provide educational opportunities to music students whose major studies lie in the areas of keyboard or voice.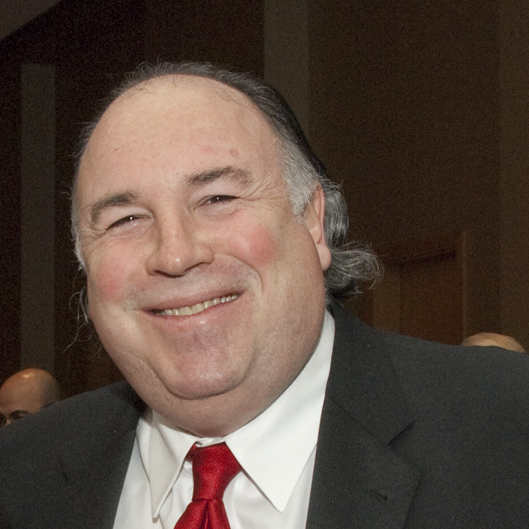 Harlan R. Teller
Harlan Teller has served as the Chief Client Officer – US and Senior Managing Director – Midwest Region of FD. During his 35 year career, he has held senior management positions at two major global public relation firms, Burson-Marsteller and Hill & Knowlton, and is considered one of the most accomplished corporate communications consultants in the U.S. Harlan graduated from NIU in 1973, with a bachelors in English. While at Northern he was actively involved in the English department as president of the English Honors Association, and as a student representative to the department's undergraduate studies committee where he had input into major changes at the time to the department's curriculum. Harlan also serves as the Interim Vice President for Marketing and Communications at Northern Illinois University. Harold and Janet Finney
Harold and Janet Finney established this fund back in 1979. Mr. Finney was an RN who practiced in several hospitals in the northeastern part of the country. He later became involved in sales of insurance, mutual funds, and other investments. Mrs. Finney was employed for many years by Western Electric Company in its college relations program. Together they agreed that they wished to help students obtain an education by establishing their own scholarship fund at NIU. Accordingly, the scholarship provides financial assistance to deserving undergraduate nursing students and equipment to advance the technology available to students. Harold and Marjorie Winters
Dr. Harold Winters was a graduate of NIU (B.A., 1955) with a major in Geography. He spent the bulk of his career at Michigan State University teaching in the Department of Geography. His wife, Marjorie K. Winters taught in the English Department and Earth Sciences for more than 30 years at Michigan State. Marjorie was a graduate of Northern Illinois University (B.A., 1954 and M.S., 1956). They retired together in Las Vegas, Nevada. Harold passed away on June 26, 2005, and Marjorie passed on February 26, 2015. Harold E. Doweiko
Harold E. Doweiko is a doctor at Gundersen Lutheran who specializes in behavior health and substance abuse. He is a Wisconsin resident and was married to Jeanette Doweiko. Mrs. Doweiko was a 1989 alumni who studied educational psychology. When she passed away, Dr. Doweiko started this endowment fund in her memory. Harold O. Wright, Jr.
Harry Wright began his career at Northern Illinois University in 1971. Over his 37 years tenure at NIU, Harry held various titles, including professor, associate dean, and program director; but is best remembered as teacher, mentor, and friend to the many students whom he has taught in the classroom. Harry started his career as an instructor in the Department of Management. Through the years, Harry continues to teach business law in the College of Business and in 1973 became involved in the CPA Review. He is the author of the scripts for the law portion of Wiley's CPA Examination Review Audio Tapes. He has taught numerous CPA review courses for NIU, the University of Wisconsin-Madison and Arthur Andersen. Harry and Nora Clark
Harry L. Clark, NIU alumnus, established this endowment in memory of his beloved parents, Harry L. Clark, Sr. and May Dorothy Clark, who provided encouragement and support for his pursuit of higher education and his life-long love of music. Harry L. Clark graduated from Northern Illinois University in 1975 with a B.S. degree in Mathematical Sciences, and in 1979 with an M.S. in Computer Science. In addition to his technical career, Harry maintained his early interest in, and talent for, music throughout his life. From high school band days to jamming sessions with IBM colleagues to occasional professional gigs, Harry enjoyed playing guitar and percussion instruments for fun and relaxation. Harry L. Clark would like to support students studying percussion and/or guitar in order to give them an opportunity to study the field that meant so much to him personally. Harry D. Horton
Harry D. Horton was born in 1894 and passed away Labor Day 1964. A lifelong resident of DeKalb, Harry was a veteran, railroad engineer, businessman, Justice of the Peace, alderman, good neighbor, husband, and father. Mr. Horton attended DeKalb public school and became a railroad engineer after attending Northwestern Railroad Engineering School in Chicago. During World War I he served as a locomotion engineer in the U.S. Army Railroad Transportation Corps in France. He also attended the U.S, Army Diesel-Locomotive School. Harry was a third degree Mason and fifty year member of the Loyal Order of the Moose, Lodge 586. In 1913 he was asked to be fireman on a special train on the Aurora branch of the C&NW RR. That train carried Grand Lodge officers to the spot where Mooseheart was to be built. It was in hearing the speeches there that harry was inspired to become a Moose member and help the dream become a reality. He retired from the railroad after thirty years, and opened a small appliance and furniture store in his neighborhood. As a businessman, he exemplified the same honesty and fairness as in civic affairs; he operated on the principle that "business is service". People were known to say, "Take it over to 'Hap' Horton, he can fix anything". Mr. Horton always dreamed about being able to go to law school. Although he was not able to fulfill his dream, he did offer to help his brother go to law school, another simple and generous demonstration of his love for democracy and the democratic process.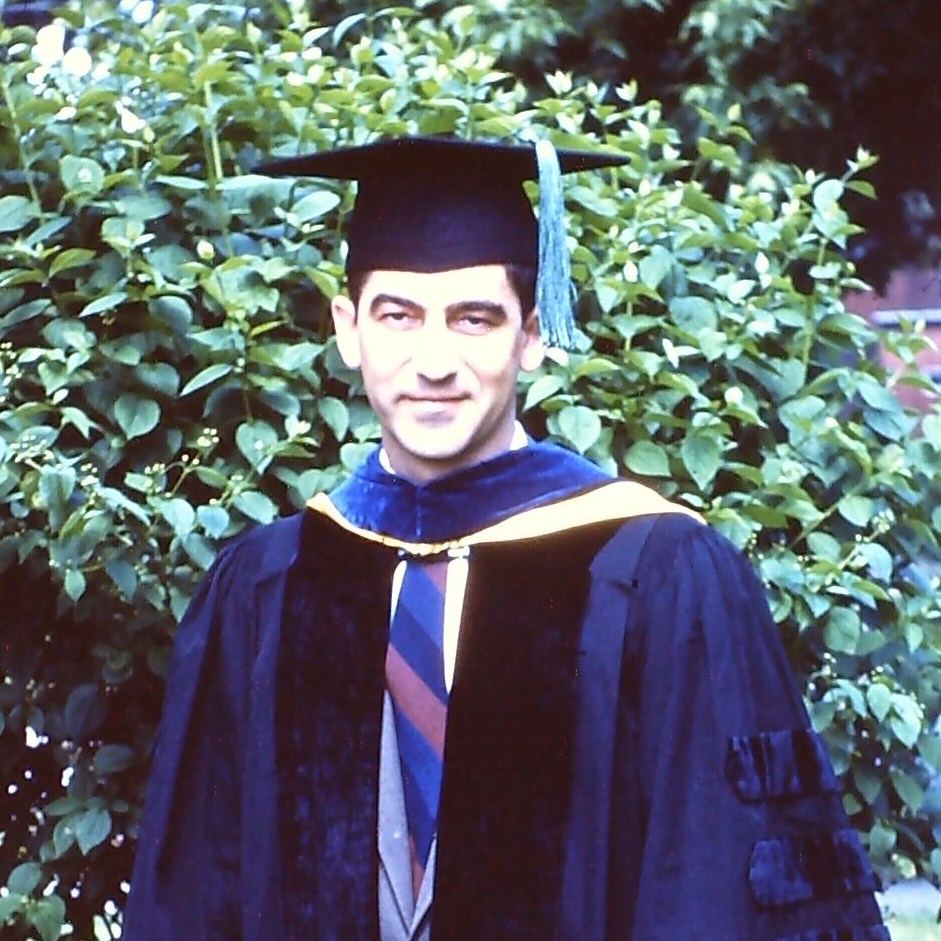 Harvey Feyerherm
This scholarship as been established as a memorial to Harvey A. Feterherm, chairman, department of biological science from 1964-1969. At the time of his death he was serving as acting director of the School of Allied Health Professions. An annual award in Mr. Feyerherm's name is to be made to a senior biological science major who plans to enter medical school or related health field. The basis for selection are high potential achievement and potential for success in the medical profession. HAVI Global Solutions
The HAVI Global Solutions (HGS) established this scholarship for students at Northern Illinois University. Their mission is to be an expert partner in managed services and consulting solutions across the global business supply chain, delivering value and growth from source to consumer. They reach beyond categories, industries, technologies and suppliers to leverage our expertise in an unbiased and impartial approach that is focused solely on client needs. Today some of the world's most respected brands rely on HAVI's packaging expertise, marketing and business analytics, supply chain services, promotions management know-how, and recycling and waste solutions to deliver a competitive advantage for their business and an unshakeable respect for their corporate and environmental program impacts. H. Carl Walker, Gordon and Virginia Rasmussen and other donors
Ms. Katherine Walker graduated from Elgin High School and Milikin University where she served as Assistant Librarian and Cataloger. She then earned a library science degree from the University of Illinois and University of Michigan. Ms. Walker served as the University Libraries Assistant and Associate Director at NIU. She was instrumental in the design of the expansion of the Swen Parson Library in the 1960s. Prior to her retirement she played a vital role in Swen Parson's transition to the Law School and the origin of the current Founders Memorial Library. Ms. Katherine Walker's love and dedication to the library profession motivated her to establish this endowment in 1995. Through this endowment, Ms. Walker intended to promote and nurture an interest in library and information studies at the undergraduate level. Ms. Walker's dedication to her profession, compassion for others, and enthusiasm for life have had an impact on all who have known her. Helen Gum Westlake and Donald G. Westlake
Helen Westlake (1927-2012) was an educator specializing in relationships and child development. She was born and raised on a farm near Elburn, Illinois and received her B.S. in education from Northern Illinois University in 1949. Her M.S. in home economics education was earned at Iowa State University in 1958. She taught home economics in high schools for 33 years-first in small schools in Illinois and Iowa, and later in large schools in the Chicago area. For 17 years beginning in 1990, she was a part-time instructor of sociology at the College of DuPage in Glen Ellyn, Illinois. Helen was a pioneer in the development of home economics related occupations. Helen frequently lectured at state workshops and taught graduate courses on teaching methods at numerous universities. She served on advisory boards for educational filmstrips, publications, and television series. Helen was the author of three textbooks: Relationships: A Study in Human Behavior; Children- A Study in Individual Behavior; and Parenting and Children. With her husband she co-authored two others: Child Development and Parenting; and Relationships and Family Living. In 1994, Northern Illinois University honored Helen with the Distinguished Alumni Award for Outstanding Career Achievement. Helen and Don Westlake have been married since 1950. Their daughter, Dawn Westlake, a filmmaker, is married to Bruce Rheins. Helen passed away in 2012. Don Westlake grew up in Elburn, Illinois. In 1950, he graduated from Northern Illinois University where he was a member of the basketball team. Don has had a multifaceted career but has never strayed from his love for learning and teaching. After receiving his B.S. in education, he taught high school mathematics and physical education. Later he was an analytical chemist at the Argonne National Laboratory in Illinois and then the Army Chemical Center in Maryland. After his army service, he entered graduate school at Iowa State University where he received his Ph.D. in metallurgy in 1959. Don returned to Argonne National Laboratory and, for the next 25 years, conducted basic research in the Material Science Division. There he gained a reputation for his ability to communicate with colleagues and with laymen of all ages. He prepared and presented numerous demonstrations of scientific principles for both adults and children. He has published more than 120 papers on his research and has given lectures at various conferences, universities, and research establishments in the United States, Germany, England, Denmark, Greece, Israel, and Japan. Since 1984, Don has been researching and writing in the areas of human relationships, parenting, and child development. His letters to editors regarding these and other social issues are often published in Chicago area newspapers. In addition to the textbooks Don co-authored with his wife, he also wrote Elburn: 44 Miles to Chicago, which treats, in both prose and poetry, family and community experiences as they relate to the development of attitudes and character. Helen Merrit
Jim and Helen Merrit have a long-standing dedication to NIU where, between them, they taught more than sixty years. From his wide experience in teaching and association with professional societies, Jim arrived at the conviction that American education would "take a giant step forward" if professional educators focused on the problem of how identity with philosophy of education can and should function in the personal and professional lives of teachers. Helen supports this fund in honor of his interest in perpetuating dialogue and research on this concept. Helen earned her undergraduate degree in English from Colby College in 1942 and her M.A. in art education in 1956 from Rockford College. In 1962 she received NIU's first M.A. degree in fine arts. Helen taught art in local schools. She traveled to Japan with her husband on business and her interest in Japanese art bloomed. She taught in the College of Visual and Performing Arts at NIU and has authored three books on Japanese art. Helen R. Schutt
Helen R. Schutt graduated from Northern Illinois University in 1925. She married Elzo T. Schutt and they opened a shoe store in Barrington, IL. This scholarship was established from the estate of Helen R. Schutt. Helen Shirley and family
This Fund honors the lives and memories of James R. and Helen W. Shirley.
James joined the NIU history department in 1962 and taught various history classes, including his main interest, modern Chinese history. He was a fan of folk music and would occasionally include guitar playing and the singing of labor and special protest songs in his lectures. James was also the advisor for Phi Alpha Theta, the International History Honor Society. He published several journal articles and wrote Chinese history articles for the Encyclopedia Americana. In addition, James served in the U.S. Army during World War II. James taught at NIU for more than 30 years,
Helen received a bachelor's degree in English and a master's degree in Journalism from Northern Illinois University. She was a life-long scholar and traveled extensively in Europe. She was passionate about art, languages, history and social justice. James and Helen taught for two years in Xian, China.
James and Helen will be treasured in the memories of those who knew and loved them. Henry de Fiebre and Karen Rothe
Henry de Fiebre joined the Northern Star as a reporter in 1970. He transferred to NIU with the intent to pursue a career in newspapers. While he was at the Northern Star, Roy Campbell,advisor, passed away. Campbell was loved by all of the staff. Henry graduated from NIU in 1972. He and his wife, Karen, established the Northern Star Alumni Scholarship and funded it annually for six years before donating the money to permanently endow the scholarship and rename it the Campbell-Thompson Scholarship. Herb Eldean
Herb Eldean is an entrepreneur who graduated from NIU's College of Business. He established this fund in order to encourage future business professionals and allow them to experience the same quality education that he did. Herbert and Millie Asbury
Jim Asbury was a graduate student in the School of Art, majoring in Time Arts as well as teaching sections of Intro to Video Art. He had undergraduate majors in Art and Art History, also from NIU. Although Jim's primary focus in his graduate studies was video/video art, he also maintained a great love and enthusiasm for art history. He was part of the NIU School of Art and the DeKalb community for over 10 years.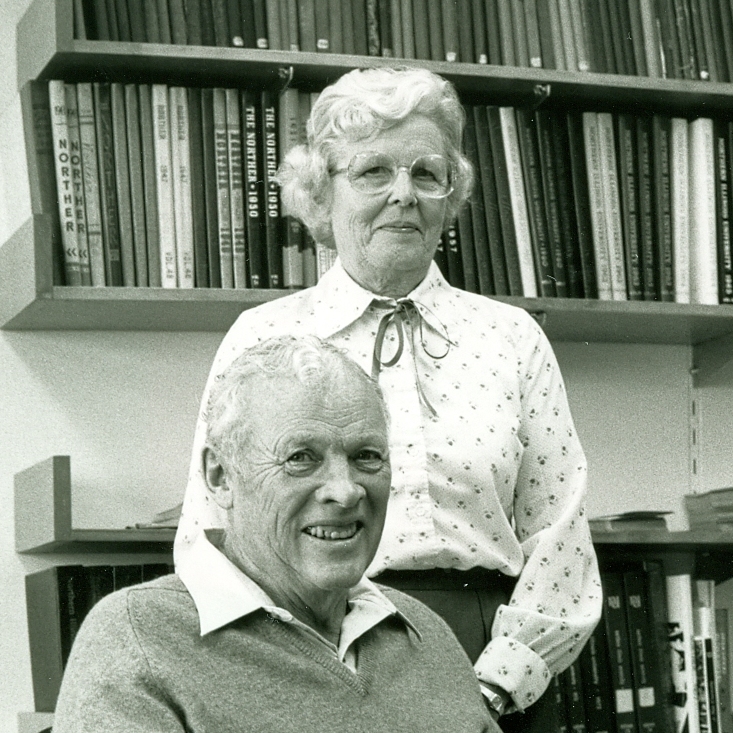 Howard and Evelyn Lanan
Howard Lanan (1914 ? 2009) was born in Kingston, Illinois, his wife Evelyn (1913-2011) was born in Esmond, Illinois. Howard attended a rural school and graduated from Sycamore High School in 1932. Evelyn also attended rural schools in DeKalb County and graduated from Sycamore in 1931. She received a teaching diploma from Northern Illinois Teacher?s College in 1933. She taught at Mayfield Center Rural School for 4 years and Sycamore South School for 2 years. As a youngster, Howard was a 4-H club member and exhibited beef calves at local fairs. He was also a Sycamore Future Farmer of America (FFA) member. He graduated in 1938 from Iowa State College in Ames, where he pursued a general agriculture degree. He started farming that year in DeKalb County on his grandfather?s farm on N. Annie Glidden Road, in rural Kingston. One year later he married Evelyn Elliott and together they would live on the same farm for 62 years. While the Lanans never had children of their own, they nurtured many children. Evelyn taught Sunday school for many years in addition to being the church organist for 50 years. The Lanans also shared their home with exchange students from the Philippines, Germany, India and Switzerland. The Lanans were very active in their church and C.R.O.P. (Christian Rural Overseas Program), as well as being active in the agriculture community including the Homemakers Extension, and Farm Bureau. They enjoyed traveling in the United States and overseas. Howard V. Youngmeyer
Howard Victor Youngmeyer, was born November 20, 1918, at Altona, Nebraska (near Wayne), son of Frank Lawrence Youngmeyer and Effie Christena Myer. Howard's mother died of tuberculosis when he was only ten years old. Howard married Mabel Marie Fischer Youngmeyer, on July 2, 1941, at Alexandria, Louisiana. Marie was raised near Clear Lake, South Dakota, and met Howard while they were both working near Madison, Minnesota. Dad had joined the National Guard while he was working in Minnesota. His National Guard unit had been mobilized for World War II, and he and his unit were sent to Camp Claiborne, Louisiana, for training. Marie went to Louisiana to marry her soldier. By the time Howard left for the war in Europe, Marie was pregnant with Howard V. Youngmeyer, Jr. who was born before his father returned from the war.Howard's service took him to Algeria and Tunisia in North Africa, and he participated in the invasion of Italy at Salerno. He fought in the Battles of Monte Casino and Anzio. Howard was awarded several purple hearts and was commissioned as a 2nd Lieutenant on the battlefield. After the war, Howard worked for the U.S. Veterans Administration, where he held several positions in the Supply Service that purchased foodstuffs for all the VA hospitals. He made very good career progress with the VA, and was highly regarded for the work he did there.Although Howard's formal education was only through the 8th grade, he was bright, always reading and learning, could fix almost anything, and taught his children so much. In retirement, Howard and Marie moved to Seminole, Florida, where they lived for many years. Inez Nelson
Inez H. Nelson, born on October 15, 1906 in DeKalb, IL, and is the daughter of Alfred and Ingred Johansan Nelson. She graduated from DeKalb High School in 1923 and earned a B.A. degree from the University of Chicago on June 11, 1940. She attended NIU in 1958 to 1959. Miss Nelson taught at the college level while pursuing a graduate degree. She established this fund in honor of the following Nelson family members: Alfred Nelson, Ingred Nelson, Ernest Nelson, Everett Nelson, Evelyn Nelson, and Inez Nelson. Isabelle Duminy-Kovarik
This scholarship fund is established in memory of Isabelle Duminy-Kovarik's parents, who instilled in her a great regard and high value for education. Isabelle Duminy-Kovarik graduated from NIU with a Bachelor of Science degree in chemistry in 1980 and a Master of Science in education degree in secondary education in 1987. She attributes her academic, professional and personal success to the excellent education that she received from the Department of Chemistry and Biochemistry at NIU. Jack and Beth Marchewka
Jack and Beth Marchewka are from Buffalo, New York. They met at the YMCA in Orchard Park, New York. Beth received her undergraduate degree from SUNY Genesso. Jack received his undergraduate degree from SUNY Buffalo, an M.B.A. from Syracuse University, and a Ph.D. in MIS from Georgia State University. They moved to DeKalb in 1994, when Jack made a career change. At NIU, Jack has played an instrumental role in the College of Business? positioning statement ?Where the Classroom Meets the Business World? as both a professor of management information systems and founder of the Business Information Technology Transfer Center (BITTC). BITTC is the predecessor of the Experiential Learning Center (ELC). Jack and Doris Simich
Jack and Doris Simich along with Joanne (Simich) Moody, Glenn Moody, Desa (Simich) Henn and Marshall Henn wish to establish this scholarship as Simich family members who are truly grateful for the education they received at NIU. Jack and Eleanor Olson
Professor Olson joined the art education faculty at NIU in 1968 along with a number of other new faculty members in the growing art program under the direction of department head, Jack Arends. Professor Olson had been director of art for the West Orange Public Schools in New Jersey prior to his arrival at Northern. In the late 1960s and early 1970s, art education had the largest number of majors among the various undergraduate degree options in the department. Professor Olson was also a practicing painter and established an active presence in the Chicago art scene soon after his arrival, exhibiting his works in various venues on a regular basis. Because of his interest in studio art, he was permitted to shift his teaching emphasis from art education to painting and drawing in 1977-78. Concurrently, he also took on the part-time responsibilities of director for Gallery 200. Professor Olson worked closely with both undergraduate and graduate students, receiving NIU's Excellence in Teaching Award in 1990 as a tribute to the high esteem with which he was held by both students and colleagues. He retired from the university in the spring of 1994. During the winter of 1994-95, he learned that he was suffering from advanced cancer. He died July 28, 1995 in DeKalb, having made the decision to forego extraordinary medical treatment. His wife and loving companion Eleanor also died of cancer in November of the same year. They established a generous scholarship endowment for the School of Art. This scholarship has been created to honor the life and memory of Jack and Eleanor Olson. Jack and Margaret Arends
The official name of the Visual Arts Building at NIU is Jack Arends Hall. Arends was once the head of the art department and was instrumental in establishing Northern Illinois University's Art Department as one of the largest in the nation. Prior to his death in 1986, the university honored Arends for his success in bringing funds to the Visual Arts Building as well as getting it designed.