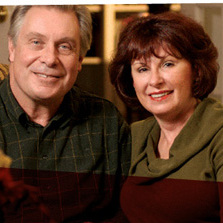 Raymond and Patricia Smerge
Raymond Smerge is the epitome of the NIU success story. He became a leader in both the corporate and civic worlds through good old-fashioned hard work and perseverance.
Originally from southwest suburban Westchester, Smerge earned his bachelor?s degree in political science from NIU in 1967. He began his career as a closing officer with Centex Corporation, one of the nation?s premier residential development companies. While working full time, Smerge attended law school at DePaul University, earning his juris doctorate in 1971 and gaining a promotion at Centex to vice president and general counsel. A longtime resident of Dallas, Texas, he retired from his post as executive vice president and chief legal officer of the company in 2004.
In his retirement, Smerge founded Savrola Development Co. LLC, a real estate development and homebuilding firm. In addition to his work with Savrola, Smerge and his wife Patricia organized a charitable foundation that has provides substantial funding support in the areas of health care and education.
Licensed to practice law in Illinois and Texas, Smerge became a member of both the Dallas and American Bar Associations. He has worked to support Legal Services of North Texas, an organization that provides high-quality legal representation to people living in poverty. Smerge was a panelist at the 2002 Dallas Bar Association ?Client Service Summit? and has served on the U.S. Advisory Board for International and Comparative Law.
Much of Smerge?s support for NIU was inspired by the late Frederick Kitterle, dean of the College of Liberal Arts and Sciences. In fact, it was Kitterle who first encouraged Smerge to reconnect with his alma mater, inviting him to serve on the College of Liberal Arts and Sciences Advisory Council. Smerge accepted the offer, and was so impressed with the college?s Undergraduate Research Apprenticeship Program and Freshman Interest Groups that he provided significant financial support to jump-start a fundraising effort to expand the initiatives. In 2004, Smerge was named as the college?s Alumnus of the Year.
Ray Smerge served on the NIU Foundation Board of Directors from November 17, 2006 to November 2, 2012. During his time as a member of the Board of Directors, he served on the Finance Committee, the Executive Committee, and campaign leadership group.