 Bill and Arlene Mickols
Bill Mickols received his undergraduate degrees in chemistry and biology as well as a master's degree in biochemistry from Northern Illinois University. Along with the academic support Bill received from Professor Arnold Hampel, Bill remembers how important financial aid was in allowing him to direct his efforts toward his studies rather than toward a job to support his education. This support enabled him to complete his studies and pursue his Ph.D. in physical chemistry at the University of New Mexico, and to do postdoctoral work at the University of California at Berkeley. All of Bill's educational pursuits prepared him for his work in water purification membranes which are important in so many areas of the world. Bill went on to receive the Scientist of the Year Award from the Dow Chemical Company, the Hero of Chemistry Award from the American Chemical Society, the Distinguished Alumni Award from NIU's College of Liberal Arts and Sciences and the Department of Chemistry and Biochemistry. Bill and his wife, Arlene, want to give other deserving students in NIU's Department of Chemistry and Biochemistry the same recognition and help that can have an important impact during the early training of a scientist. They hope other like-minded alumni will join them in contributing to this scholarship fund in support of tomorrow's distinguished scientists.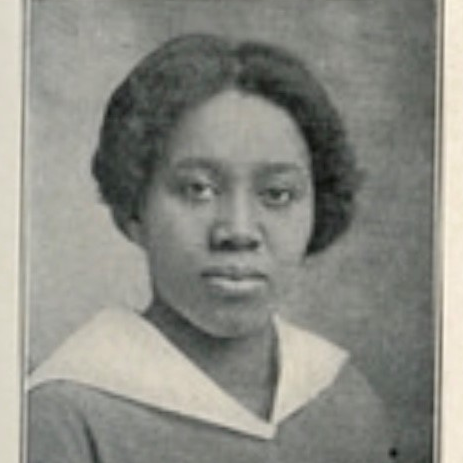 Black Alumni Council, in honor of Fanny Ruth Patterson
The Northern Illinois University Black Alumni Council is located in Chicago and has been in existence since 1976. Currently, its efforts are to continue to support African American students at NIU and serve as a resource to advance NIU African American alumni.
The Fanny Ruth Patterson Scholarship is named after the first black student to graduate from NIU. Fanny Ruth Patterson, who earned a bachelor's degree in education in 1915, was known as a brave innovator at Northern. Bonnie Henn-Pritchard
Bonnie Henn-Pritchard is an accomplished business professional who applies her broad-based experiences to bring people and issues together, build consensus and common agreement, and explore how people communicate from distinctive perspectives. Throughout her career, she has presented to corporate and community organizations and has been honored with various awards, including the Dallas Business Journal?s 2011 Women in Business recognition. Brent and Sharon Brodeski
Brent Brodeski graduated with a finance degree and economics minor from NIU's College of Business in 1988. He also earned his MBA from NIU in 1991 with an emphasis in accounting. He is the co-founder and managing director of Savant Capital Management, Inc. Savant is an integrated wealth management firm that serves high net worth individuals and institutions. Savant is headquartered in Rockford, IL and has offices throughout the Midwest.Brent and Sharon established this scholarship fund for NIU finance majors to recognize the invaluable educational opportunity and mentoring experience Brent gained while working with finance faculty during his undergraduate and graduate education. His NIU experience instilled the passion and skill that led to the creation of one of the nation's top wealth management firms. Brian E & Tamra A. McGough AND J.P. Morgan Bank
Brian McGough is a 1990 NIU alumnus of the College of Law. He is currently the Managing Director at U.S. Bank Capital Markets. He and his wife, Tamra, established this fund to provide support to members of the current graduating class who have done the most outstanding work in the corporate sequence of courses. Brian is a member of the Chicago Bar Association, the Illinois State Bar Association, and the American Bar Association. He is also a member of the National Association of Bond Lawyers. Bruce Rafalson
Bruce Rafalson graduated from NIU with a B.A. in History in 1980 and a Master of Arts in Philosophy in 1983. The Donor won an essay contest in his own graduate studies and believes that the opportunity to present ideas in a public forum is an excellent way to encourage students professionally. In addition, the donor believes that his studies in Philosophy have contributed to his successful law career and he would like to show respect and appreciation for the professors that taught him. After earning his degree in philosophy, the donor graduated in the top 2% of his class in law school and spent several years with the Legal Aid Society in Manhattan representing indigent criminal defendants. Carl Fugiel
Brian Fugiel graduated from Northern Illinois University with a Bachelor of Science degree in 1998 and a Master of Science degree in 2004. He was employed as a manager of geotechnical field activities for Wang Engineering in the greater Chicago area. As an undergraduate student at NIU, Brian himself benefited from a scholarship from the Weiss Fund. Not only was Brian an academically strong student, he was active in student and departmental activities and was an exemplary member of the geoscience community. His wit, personal warmth, and friendly nature contributed greatly to the sense of "family" within the department. In addition to his love of geology, Brian was fascinated with meteorology and storm-chasing. As a student and a professional, Brian enjoyed fieldwork and believed it to be a fundamentally important aspect of any geological project. Carmen Pursley
Carmen Pursley was a music teacher most of her life. She started teaching violin while a senior in high school and continued to maintain a private violin studio her entire life. She received her educational specialist degree from Ball State in Muncie, Indiana, and a Master of Music in performance and music literature from the Eastman School of Music in Rochester, New York. For 14 years, Carmen was a traveling string teacher in the Rockford Schools, serving fifth grade through high school. During that time, she was assistant conductor of East High Orchestra and traveled with the Orchestra to Copenhagen, Denmark, for a two-week concert tour through the people to people program. She also taught at Middle Tennessee State University. She performed with the Nashville Symphony, the Muncie Symphony and the Rockford Symphony under conductors Charles Bornstein and Steven Larsen. She also performed with the Rockford Symphony Chamber Orchestra, appearing as a soloist on its final concert with the Mendelssohn Chamber Orchestra. She played in the Woodstock Mozart Festival and with the Baroque Ensemble from Indiana, which performed for six weeks in Majorca, Spain. Carmen played with the Riverside String Quartet and the Tiffany Trio, and performed solos at her church. She was a performing artist of the Mendelssohn Performing Arts Center for more than 20 years and was a member of its board of directors. In 1994, she was honored by the Mendelssohn PAC with the Mary Chaney Clark Award for volunteerism and in 2004 she received the Starr of Excellence Award from the same organization. On May 4, 2000 the ninth annual RAMI Lifetime Achievement Award was presented to her and her late husband, Wilbur, for their lifetime dedication to music nationally and in the Rockford area. Carol Waite
Raised on a farm in tiny Prophetstown, Ill., Carol Mulcay came to Northern Illinois State Teachers College in the fall of 1951 to study what now is called Early Childhood Education.
She quickly discovered another passion, however.
Unaware that NISTC also offered degrees in Business Education – the department was created just that year under the leadership of newly hired Professor Francis R. Geigle – Carol promptly transferred for the spring semester of 1952. She credits the influence of her excellent business teacher at Prophetstown High School and a mind that "clicked" for accounting.
Geigle, who went on to play a major role in NIU's growth from a small, state teacher's college to a large university, served as Waite's academic adviser and taught many of her accountancy classes.
In August of 1954, after completing three consecutive years of fall, spring and summer study, Carol was among the first female graduates from the Department of Business Education. She has fond memories of those years, remembering a close-knit group of students and faculty who frequently ate together in the cafeteria and attended classes together "in the barracks" near Gilbert Hall.
While she waited for fiancée, Arlyn, to complete his bachelor's degree, she taught beginning typing classes in a western suburb of Chicago. Arlyn, who was six years older than his hometown sweetheart, and had served with the Navy then Illinois State Police before returning to school, graduated from Northern Illinois University in 1956.
One week later, the couple married.
The new Mrs. Waite taught business education for four years at Proviso East and West high schools; she then took a decade off to become a mother to sons Jerry, an NIU graduate and now-retired social worker for the State of Illinois, and Kenneth, a pProfessional eEngineer in Florida.
Arlyn, meanwhile, became one of the first graduates of NIU's master's degree program in School Business Management and worked in several suburban districts before beginning a 20-year career in Elmhurst.
Carol's NIU career resumed in 1969, when she enrolled in the university's new program in Library Science. That degree prepared her to become a librarian at an elementary school in Naperville, where she worked for more than two decades.
Arlyn and Carol retired from their careers in 1989, moving south to the Florida property they purchased in 1979. Distance never stopped them from thinking of NIU, however, and the critical role it played in their lives.
For Arlyn, who passed away in December of 2014, one aspect of those memories connected to Prophetstown. During his senior year at NIU, he needed money to fully cover his tuition – and, thanks to a $1,000 loan from a person back home, the bill was paid.
He settled that debt a year later, making it his mission to help future generations in the same way by supporting scholarships.
Driven to "pay forward" their advantages to people who are passionate about their personal and professional dreams, the Waite's generously shared their financial comfort in the hopes that college students will graduate with as little debt as possible.
Now in her 80s, Carol continues to live in Florida.
Life in the Sunshine State has revolved around church activities and volunteer positions at two hospitals and, for more than quarter-century, her local library. She's there every Saturday morning checking out books, assisting patrons and providing a friendly and open ear for people who simply come for the companionship. Carolyn M. Massey
James Massey led the University Honors Program from 1994 until his death on August 1, 1999. A dedicated and committed man, Massey always urged students to enhance their academic experience with community involvement. Casella Field Camp
This fund was established to honor the work of Dr. Clarence Casella, retired faculty from Northern Illinois University and Howard Allen. Caterpillar
Since 1952, the Caterpillar Foundation has been dedicated to transforming lives in communities around the world. The foundation champions programs that support education, environment, and basic human needs. Catherine and David Arnold
In 2013, Susan Arnold established the David and Catherine Arnold Fellowship in honor of her parents. Her father received his master's degree in public administration in 1943 from Syracuse University. From 1949 until his retirement in 1985, Mr. Arnold was on the staff of the International City/County Management Association. Mr. Arnold's memberships included Pi Alpha Alpha, the honor society in public administration, and honorary memberships in both the International City/County Management Association and Delta Kappa Epsilon. He married Catherine in 1953, and together they raised their two children, Susan and David. Catherine Griffin
Nathan Griffin was a fun-loving son, brother, husband and uncle. He enjoyed laughing, spending time with his family, and watching football. He tried very hard to finish his college degree, but challenges with his health did not allow him to do so. His family would like to remember him by providing a scholarship to someone who is also dedicated to finishing his or her degree and may be experiencing challenges. Celine Neptune Fund Anonymous Donor
This scholarship is established in the name of Miss Celine Neptune, former Chairman of the Home Economics Department. This award was established in 1972 by a former student of Miss Neptune, who wished to remain anonymous. Chaitan and Sarita Gupta
In 1960, Chaitan P. Gupta was awarded the gold medal for being the top Math M.A. student at Delhi University. Two years later, a student named Sarita was awarded the same honor. In between, he was her tutor and she his pupil with the both of them falling in love with mathematics. The subject became an integral part of their future plotting the course on what they would do next and where they would go. Separately, each of them opted to go to the United States for graduate study in mathematics. It was a low probability endeavor because the United States was admitting only 1000 Indians per year. Despite this, both of them obtained student visas due in large part to their mathematical prowess. He went first in 1962 and stayed connected with his former pupil through letter writing. What started as a tutor-student relationship blossomed into an intercontinental courtship. They married in 1965. Four years later after completing their graduate studies, they came to Northern Illinois University where he became a Professor and she a Math Instructor. Together at NIU until 1992, he carried out his professorial duties, she her teaching assignments, and the both of them raised a family in DeKalb, IL. The scholarship is a tribute to their numerical partnership. May every awardee of this scholarship beat the odds as they did and realize their statistically improbable dreams. Chang Liu and Hong Niu
Dr. Chang Liu is a professor of Management Information Systems, and department chair of Operations Management and Information Systems in the College of Business at Northern Illinois University. He earned his Doctorate of Business Administration from Mississippi State University in 1997. He joined NIU as a faculty member in August, 2000. Previously, he worked for two years at Motorola Inc., Beijing as a project manager in the mobile infrastructure division. Dr. Chang Liu and his wife, Hong (Juliet) Niu, have two children, Jonathan and Jason. Hong (Juliet) Niu currently works as a cost accounting manager at Ideal Industries in Sycamore, Illinois. Charles E. Montgomery
Established to honor the memory of Dr. Charles Montgomery, who came to Northern Illinois State Normal School in 1917 and served as head of the Biology Department from 1921 until his retirement in 1952. Charles Hofbauer
The Delta Sigma Pi Scholarship in Business was established by Charles F. Hofbauer in 2009. He graduated from NIU in 1969 with a B.S. degree in Marketing and in 1971 with an M.B.A. Charles works for C. Hofbauer, Inc., which specializes in the sales of electro-mechanical components and services to OEM's in Northern Illinois, Indiana, Eastern Iowa, Kentucky, Michigan, Ohio and Eastern Wisconsin. Charlotte H. Schwartz
Charlotte H. Schwartz taught Spanish at Lyons Township High School for 27 years. Charlotte was born in Chicago on December 28, 1924 and was a graduate of Northern Illinois University (B.S., 1949 and M.S., 1963). She began teaching at Kirkland, IL High School in 1949, moved on to Glenbard High School in 1951, and began teaching at Lyons Township High School in 1957. She retired in 1983, but continued teaching Spanish as a volunteer at Oak Trace Retirement Center. She lived in Western Springs for many years with her parents and was a member of Peace Memorial Church in Palos Park.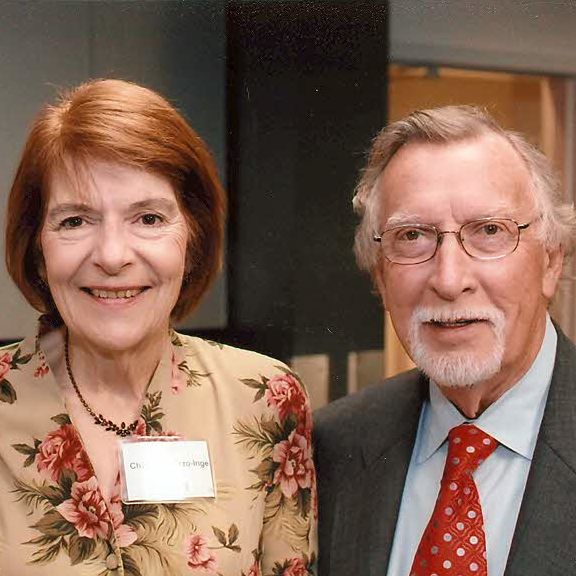 Charmaine Izzo-Inge and David Inge
In loving memory of their daughter, Victoria J. Izzo, and to express their pride in her personal, educational, and professional accomplishments, Charmaine and David established this scholarship to provide student award recipients with encouragement, guidance, and commitment to the values of an education. Chris and Lorraine Millington
Denise D. Schoenbachler served as the Dean of the College of Business at Northern Illinois University from 2006 through 2016. In addition to her role as Dean, Denise's 20-year academic career at Northern Illinois University has included positions such as Chair of the NIU Department of Marketing, Professor of Marketing, and Coordinator for the Interactive Marketing area of study.
As dean of a large public university, Denise's responsibilities included managing more than 150 employees, providing outstanding educational opportunities for more than 3,500 students, and building relationships with the college's 50,000+ alumni. She is past president of the Mid-America Business Dean's Association; past president and board member of the Women Administrators in Management Education affinity group for AACSB; a past member of the AACSB Committee on Accreditation Policy; and vice-chair of the AACSB Initial Accreditation committee. She currently serves as a member of the Board of Governors for Beta Gamma Sigma Honor Society.
An award-winning teacher and scholar, Denise's primary teaching and research interests are in interactive marketing, marketing strategy, and privacy issues in marketing. She holds a Ph.D. in marketing from the University of Kentucky, and an M.B.A. and B.B.A. from the University of Louisville. Christopher Millington
Christopher M. Millington is an accomplished businessman, visionary, philanthropist and friend. As an honorary alumnus of the NIU College of Business and Department of Operations Management and Information Systems, he plays an important role advancing vitally important objectives for NIU. His hands on participation reflects his passion for experiential learning. While his philanthropic support is having an important impact, his contribution of time and mentorship has influenced many and is a significant part of his legacy.As a recently retired Chief Technology Office and Vice President of McDonald's IT Solutions organization, he has had a distinguished career. Chris' responsibilities included Global Infrastructure and McDonald's IT CORE Business Application Solutions. Chris joined McDonald's in January of 1999. Prior to joining McDonald's, he was Vice President/Chief Technology Officer for Kemper Insurance.In addition, he worked in financial services, insurance, computer services, manufacturing, wholesale distribution, and telecommunications industries. Former companies include American Express, Ameritech, Amex Life Assurance, Avnet Computer, and Informatics, Inc. He has owned and operated a structural moving company and spent six years in the United States Marine Corps Reserves.Chris has a broad and extensive background in information technology management. His experience includes operations, architecture, engineering, network, data, systems development, security, customer service and large-scale outsourcing. Chris has a real passion for people/organizational development.He and his wife, Lorraine, reside in Algonquin, Illinois. Clarence and June Pearson
Clarence Pearson is a 1950 graduate from the Department of Biology at Northern Illinois University. It was during his time on campus that he met his late wife, June, who also was a student at NIU. After having served in the U.S. Army Medical Corps during WWII, he attended NIU on the GI bill. Following graduation from NIU, Clarence taught seventh-grade and eighth-grade biology and health education. He went on to obtain a Master's degree in public health (MPH) at the School of Public Health at the University of North Carolina at Chapel Hill, majoring in public health education. Clarence has served as Senior Advisor to the World Health Organization Office at the United Nations and as Founding President and Chief Executive Officer of the National Center for Health Education (NCHE), the outcome of a Presidential Commission. He was a 'loaned' executive for a two-year White House assignment as Associate Director of a U.S. Presidential Health Commission. Pearson also served as Vice President of the Peter F. Drucker Foundation for Nonprofit Management and Vice President and Director of Health and Safety Education for Metropolitan Life.Pearson conceived and serves as Executive Editor for a book series on global health, published by Jossey-Bass/John Wiley & Sons: Critical Issues in Global Health, Global Health Leadership and Management, Global Health and Global Aging, and Urban Health: Global Perspectives. The fifth book, Global Health, Poverty, and Longevity, will be published in 2012. Laurie Norris is a seasoned professional with a distinctive blend of experience and interdisciplinary skills honed in the nonprofit and business sectors. Laurie Norris has demonstrated results working toward progressive change. An experienced interviewer and writer, she has worked cooperatively and independently on a broad range of projects involving foreign and domestic collaborations. For the Jossey-Bass/John Wiley & Sons series of books on global health, Laurie serves as managing editor and editorial consultant to the founding editor of the series. It includes Critical Issues in Global Health; Global Health Leadership and Management; Global Health and Global Aging; and Urban Health: A Global Perspective. For an organization that pioneered Western-style medical education in China and Southeast Asia, she wrote and project-managed a history, The China Medical Board; 50 Years of Programs, Partnerships, and Progress 1950-2000. Laurie was Director of Communications for Catalyst, a national, business-supported organization focused on work and family issues, where she worked to establish Catalyst's Work and Family Center as the primary resource of its kind. She also served as Vice President for Communications at the American Heart Associate tion/NY C Affiliate. Together, their passion for health education has led Clarence and Laurie to play a vital role in the shaping the past, present, and future of our nation's health education initiatives. By establishing the Clarence and June Pearson Worldview Internship Award, Clarence and Laurie will continue a legacy of furthering the importance of health education through students at Northern Illinois University. Clark Neher and Arlene Becker Neher
Clark Neher taught in the Department of Political Science at NIU for 32 years. During his tenure, he wrote eight books on Southeast Asia as well as 60 papers, book chapters and articles. He was the Chair of the Department of Political Science for nine years and was the Director of the Center for Southeast Asian Studies for three years. He retired in 2000. Professor Neher taught political science at Chulalongkorn University and Arlene Neher taught English at Prasarnmitr Teacher Training College in Bangkok. After completing his B.A. and M.A. degrees at Stanford University and following his Peace Corps duty, Professor Neher went to UCLA to further his studies and receive his Ph.D. degree. At the time of this endowment, Arlene Becker Neher served as Director of Liberal Arts and Sciences External Programming and held similar outreach positions at the University. She also held offices at the Center for Southeast Asian Studies. CLAS Advisory Council and Friends
The College of Liberal Arts & Sciences Advisory Council was established in 2001. The council is made up of dedicated alumni and friends of the CLAS. In October of 2015, the CLAS Advisory Council voted to create a common giving opportunity and to ask for 100 percent participation from council members. After thoughtful discussion, the Council had agreed that the focus of the CLAS Advisory Fund will be to support students who are at the brink of graduation and success but may be at risk financially. The CLAS Advisory Council Fund assists students encountering financial obstacles to continuing their education by helping meet their last-minute financial needs. The CLAS Advisory Council will help provide deserving students with the opportunity to finish their education. As advisory council members, we are in the position to help current students become proud Huskie alumni. We will ask our recipients to do the same in the future as they are able. It is the hope of the CLAS Advisory Council that establishing this fund will financially assist, inspire, and encourage NIU students in the CLAS to continue to pursue their college degrees. Cletus Fisher
Born in Canton, Ohio, Cletus Fisher earned degrees from Kent State University, the University of Iowa, and the Ohio State University. He worked as an assistant professor and administrative assistant in the Department of Speech Pathology and Audiology at the University of Iowa before coming to NIU. He came to NIU in 1968 with a desire to create a Department of Communicative Disorders that could stand-alone from the Department of Speech. As a result of his efforts, the Department of Communicative Disorders, one of the largest such programs in the state, is ranked near the top of similar programs in the country. The department offers the only rehabilitation-counseling program in the state with a focus on deafness. C. Mason and Madeline Myers, their family and friends
This endowed fund was established by the family and friends to honor and memorialize Professor C. Mason Myers and to create a means of support for graduate students in the Department of Philosophy. Dr. Myers chaired the department and taught at NIU for 27 years until his passing in 1986. College of Business Rockford Area Alumni Club
David Graf earned his B.S. degree from the University of Wisconsin Whitewater in 1964. Subsequently, he attended the University of North Dakota where he received an M.S. degree and a Ph.D. He joined the faculty of the Department of Business Education and Administrative Services at NIU in 1976 as an assistant professor and was appointed Chair in 1982. He was appointed as the Associate Dean of the College of Business in 1993. After serving one year as Acting Dean, Graf was appointed Dean of the College of Business and served from 1994 until 2005. Diane Graf attended Northern Michigan University where she earned a B.S. in Business Education. Subsequently she earned an Ed.D. from NIU. She taught at St. Xavier University and Waubonsee Community College. The College of Business Rockford Area Alumni Club renamed this fund to honor the Grafs commitment to NIU. College of Law
This fund was established in 1997 by the NIU College of Law to honor Francis X. Riley, a distinguished faculty member who served the college through its first decade. He devoted his life to law and education. He was one of the law school's original faculty members when it opened in 1975 at Lewis University in Glen Ellyn, Illinois. He also played an integral role with the transfer of the law school to NIU in 1978. He taught full-time until 1983 and then part-time until 1987. Highly respected among the student body, Professor Riley received the NIU Law Faculty Member of the Year Award from the classes of 1980, 1981, 1982, 1983, and 1984. In January 1993, NIU Law dedicated and renamed its moot courtroom the Francis X. Riley Courtroom. Professor Riley passed away on September 14, 2006 at the age of 93.